Dec
Click here to view this week's Friday Flyer
This week:
Merry Christmas from the Friday Flyer Team!
Helping you stay safe, well and Winter Wise
Winter Solstice Wishes from Curious Motion
Keeping each other safe this Christmas
Have a great weekend!
If you're on our mailing list the Friday Flyer will arrive direct to your inbox every Friday. Join the mailing list by emailing team@calderdalelowervalley.com
You can also contact us on 01422 252 209
A Merry Christmas from us all!
What a fabulous year we had. Coming out of lockdowns, getting to grips with Covid, new variants to keep us on our toes… and still, hesitantly, slowly but surely events started again. It hasn't been easy by any stretch. I hope that as we look back at the hardships we realise – we overcame them yet again.
We were super glad to receive events for Halloween, Bonfire and finally Christmas in its full glory!
We even joined in, following the 12 days of Christmas shopping window trail and found 7 images. Did you do better? Boast!
See our 12 Days of Christmas Shopping Window Trail success!
We hope you have a good Christmas, surrounded by your nearest and dearest.
If you find yourself alone on that day, or any other day, if you find that you need urgent help and support, please reach out to someone.
You may find the resources in the below publications useful:
We will be back with you in the New Year with updates starting on the first week of January and the Friday Flyer coming to your inbox on January the 7th.
We look forward to hearing from you.
Until then,
Merry Christmas and a Happy New Year!
The seventh and last image we were able to spot is now up.
Our hunt for the 12 shopping window paintings by Jenny Tribillon is now complete. You can find out how we did by following this link!
Did you do any better? We'd love to hear from you!
We hope you enjoyed this mini game!
The ever creative Magpies have put together their season's greetings message for all to enjoy. You can even catch a glimpse of their glowing festive decorations!
Click on the link below to watch our Christmas message video!

Visit the Magpies website to find more about what the Magpies do, their news and events and how you can get involved in their activities!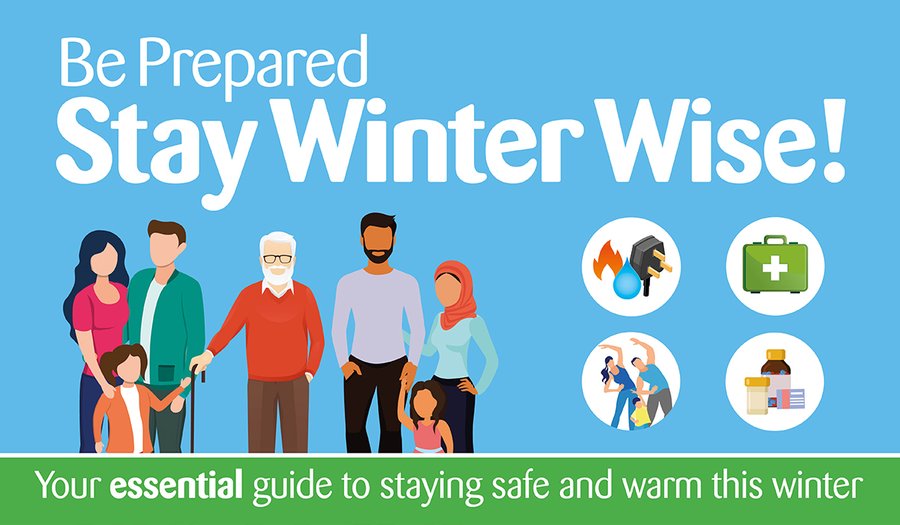 Residents in Calderdale will soon receive important advice to support them to stay warm, safe and well throughout this winter.
The latest version of the Winter Wise guide is being sent to all households in Calderdale, with updated advice on a range of topics to help support residents through the winter period.
The guide has been created by Calderdale Council in partnership with the Calderdale Clinical Commissioning Group (CCG) and is also available to view at www.calderdale.gov.uk/winter. It contains important advice to help with issues that we may have during winter months, such as preparing for extreme weather events, energy saving tips and how to boost mental wellbeing.
This year's guide also includes extra information about how we can boost our immunity this winter, with specific guidance on the COVID-19 booster campaign and flu jabs and the importance of getting these vaccines. There's also a section providing further advice for those with health conditions such as diabetes and those who are clinically extremely vulnerable.
To support local health and care services and reduce pressures on these services, the guide also signposts people to the right care, in the right place, at the right time. This includes support on self-care and the use of local pharmacies, as well as advice about contacting GP surgeries or seeking urgent emergency care. More information is also available at https://togetherwe-can.com/
This directory is full of information about the diverse range of help and services available from the Voluntary, Community and Social Enterprise (VCSE) sector that can support you to have a safe, supported Winter.
Find help on:
Mental Health
Physical Health
VSI Volunteer Hub
Loneliness
Food Support
Specialist Support
The directory includes places where you can find food and resources support as well.
Hard copies will also be available in January 2022.
Home Instead Senior Care Calderdale's second Santa-gram campaign has been a great success, spreading Christmas cheer to elderly people across the local area.
Launched in November, Home Instead's Santa-gram campaign reached out to primary schools across Calderdale to ask school children to create a special Christmas card or letter for an elderly person this Christmas.
Most of our elderly population have experienced isolation and loneliness this year due to COVID-19, with many continuing to isolate over the Christmas period.
The home care company, which provides companionship, housekeeping and personal care to people in their own homes was overwhelmed by the result. They had seventeen local schools and one after school club sign up to the campaign, receiving 1452 Christmas cards which were all decorated, or hand drawn by children from ages four to 11.
They also received a further 389 items including bookmarks, letters, pictures, decorations and riddles, to be distributed along with their cards.
Morrison's supermarket in Elland, Halifax and Kershaws Garden Centre in Brighouse also got involved, with customers donating presents to the campaign.
The Santa-grams were packed into envelopes and delivered along with the presents to assisted living facilities, churches and community groups including Memory Lane and Riverside Dementia Cafés, Age UK, Halifax Blind Society, the Royal British Legion and Making Space – the carer's wellbeing service.
The company also teamed up with local pharmacies who helped to distribute the Santa-grams to their network of customers that receive home delivery of their medication.
A local resident phoned in after receiving her Santa-gram to say:
"Thank you for our lovely Christmas surprise.  It was so kind of you to take the time making them for us. I am sending you a photo of your decorations in house they are lovely."
"Lovely Christmas card delivered by my local pharmacy.  It was beautiful and really made my day."
Munaf Patel, Director at Home Instead Calderdale said:
"Since the reopening from lockdown in July, many of the community groups which serve the elderly have still not restarted their meetings and as result a lot of older people are missing out on the companionship, care and love that many of us simply take for granted.  We wanted to do something to help out and this is a nice way to bring two different generations together."
 To find out more about Home Instead Calderdale and the home care services they provide, including live-in care, please call 01422 292424 or visit https://www.homeinstead.co.uk/calderdale/.
If you find yourself need, there is emergency support in place over the festive period from 20th December to 1st January 2021.
Support includes food parcels, community meals, mental health support, homelessness support and social care help.