Mar
Come to our live events, enjoy live entertainment, alternative music scene with performers pushing the boundaries at the Golden Lion in Todmorden.
Tickets for each event can all be found on Skiddle through each event's link.
April 24, Open mic comedy evening
https://fb.me/e/14ChD8oMb
Watch established comedians test out new material – always a good night.
April 29, Black Doldrums + Bones Shake
https://fb.me/e/4fGz6rvyc
May 14, Band Showcase to highlight new talent
https://fb.me/e/3bQADxhma
Saturday 28th May Music: 
Saturday 14th May Music showcase 
Dark Matter Band Showcase | Facebook
7 bands including Kyogen, Gdansk81, Legs on Wheels, Bingo Harry to name a few plus DJ Glenn Evans
Events take place at the Golden Lion, Fielden Square Todmorden.
Tickets can be purchased in advance from Skiddle (follow event's facebook link) or on the door for a slightly higher cost.
The Golden Lion offers stunning Thai cuisine, you could make a night out of it!
Looking forward to seeing you!
We are seeking views on how mental health services can record and measure what difference they make in people's wellbeing. If you have had treatment or support from mental health services in the NHS or through organisations like Healthy Minds, you are likely to have been asked questions about your feelings and how well you're doing on different areas in your life. We have launched a survey to get your views on two examples of these "outcome measures" that are currently being considered for use in mental health services throughout West Yorkshire (and possibly further afield).  We want to gather views so that we can tell NHS England what people think, and they can take this into account in deciding what measures to use.
Please take a look at the two example sets of wellbeing measures on the webpage and complete the survey questions via the link.
It should only take a few minutes to complete the survey. You won't be able to fill in the wellbeing measures – they're just shown to illustrate the questions they ask.  We would like you to compare the two sets of measures and tell us what you think. You might want to consider how they look, how easy they are to fill in, and the language they use – but you can say as much as you want and all comments will be useful.11th April 2022.  ​We will update this page with the results from the survey and news of any developments as this work progresses! Thank you for your feedback.
​ Please feel free to share this with anyone who might be interested.  Please complete the survey by
Are you passionate about Elland? Do you want to get involved and help shape ambitious plans for improving Elland Town Centre?
If so, we want to hear from you!
Elland has received £6.3 million investment to fund improvements in the town as part of the Government's Future High Streets Fund, with further conservation funding on the horizon. The Elland Town Development Board has been set up to guide, steer and influence the transformation of Elland – to build a town where history lives, communities come together and where memories are made.
We are determined that the Elland Town Development Board represents the residents and the businesses and organisations that make it the unique place it is.
We're looking for people from every part of our town to join the Town Development Board and help write Elland's next chapter.
Who do we need in particular?
People who are passionate about Elland
We need more representatives from the Private Sector – you could be a business owner, have a stall on the market, want to help develop young people's skills or be committed to generating sustainable growth and have ideas how to do that.
We also need more Community & Voluntary Sector representatives – you could be from a local charity or organisation. In order to better reflect the diverse needs and aspirations of the local community we are particularly seeking applications from communities who are currently underrepresented including but not limited to young people, disabled people and people of different ethnicities and faiths.
If you are interested in finding out more, or would like a copy of the role profile to submit an application, please contact the Elland Town Development Board Chair Councillor Victoria Porritt by emailing  councillor.vporritt@calderdale.gov.uk  or by ringing Mobile: 07738785233.
A covering letter (one side of A4 maximum) with a copy of your CV showing how you meet the role profile should be submitted to Councillor Victoria Porritt by 1700hrs on Friday 22 April 2022.
The Future NHS website now provides translated materials page for the Covid Vaccine.
This includes UKHSA consent forms for vaccinating minors.
The consent forms have been translated into the following languages: French, Gujarati, Polish, Urdu, Tamil, Arabic, Punjabi, Farsi, Somali, Lithuanian, Nepalese, Portuguese, Spanish, Bengali, Turkish, Romanian, and Hebrew.
To access these you need to a be registered with NHS futures.
Future NHS is a useful resource, easy to use and very quick to register.
The entire UKHSA consent form collection can be downloaded from this hub here: Translated consent forms zip file
Alternatively, the individual forms are included from the Translated materials pages
Join us for a free, on-line event about Disability and Health issues in Calderdale on April 11th from 2.00 – 4.30pm.  It will be our opportunity to present our findings from our community research from a grass-roots perspective.
Over the last year we have listened to Hardly Heard voices from different communities across Calderdale about their experiences of living under the Shadow of Covid on themes of Disability and Health.  It will also be your opportunity to ask questions about our research as well as of the community researchers from diverse communities who belong to our research team and represent grass-roots organisations in Calderdale.
Please register via https://crag-disability-research.eventbrite.co.uk
We are also keen to continue this dialogue and discussion after the event.  We recognise that our efforts have been relatively invisible so far and hope that we can collaborate with a broader coalition of people to pursue any actions which may come in its wake.   One possibility is to explore the potential of setting up an independent Citizens Forum to enable concerns about Disability and Health to be expressed and responded to more effectively across Calderdale and with a democratic basis based upon the principle of genuine co-production.
We welcome your ideas and suggestions both at the event and afterwards on how best to go about this.  We are also keen to pursue efforts for an inclusive and supportive Calderdale in line with our support from the Connection Coalition at the Jo Cox Foundation and the Community Organisers movement in the UK.
I will endeavour to respond to all of your queries and suggestions but please bear with me if I do not always respond immediately because I am presently immersed in other conversations about the War in Ukraine and our practical response to it in the Calder Valley, UK and indeed across Europe.
Our Summer term courses and activities are live on the website for booking.  This term we have some new courses – Art and Creative Play, Healthy Cooking on a Budget, Smashing Parenting (aimed at the early years) and Budget Like a Boss as well as the popular favourites.
Due to staff shortage in daycare there aren't any creche or childcare facilities. If you feel this would be a barrier please contact the setting that provides the activity.
Calderdale Lower Valley list of this term's courses and activities below.
Click here for North and East Halifax activites
| | | | | | | |
| --- | --- | --- | --- | --- | --- | --- |
| Lower Valley Course Details | Day | Start Date | End Date | No of Weeks | Course Time | Location |
| Art and Creative Play | Wed | 27.04.22 | 25.05.22 | 5 | 1.00 – 2.00pm | Wellholme Park |
| Baby Massage | Thur | 05.05.22 | 26.05.22 | 5 | 9.30 – 10.30am | Whinney Hill TBC |
| Budget like a Boss | Fri | 17.06.22 | 24.06.22 | 2 | 12.00 – 2.30pm | Elland CC |
| Family First Aid | Mon | 04.07.22 | 11.07.22 | 2 | 1.00 – 2.30pm | The Space TBC |
| Smashing Parenting | Fri | 01.07.22 | 15.07.22 | 3 | 1.00 – 2.30pm | Elland CC |
| Accredited Course Details | Day | Start Date | End Date |  No of Weeks | Course Time | Location |
| Introduction to Childcare | Tues | 3.5.22 | 21.06.22 | 7 | 9.30 – 2.00pm | Elland C of E School |
All these activities are advertised in the Sure Start Children's Centre newsletter, along with a wealth of information for families with a real focus around school readiness.
Click here for detailed course information and to book
(telephone booking option available)
Those who have registered with our Sure Start nurseries receive this quarterly newsletter either online or by post.
To register with Sure Start, visit http://surestartchildrenscentresnhp.org.uk/ (under Services and Activities) or visit your nearest Sure Start Children's centre for a paper form.
During the pandemic, reports of abuse directed at doctors' surgery staff and community pharmacy teams across West Yorkshire have increased.
In response the West Yorkshire Health and Care Partnership (WY HCP) has launched a new insight driven campaign called 'leaving a gap' to make people think about the consequences of abusive behaviour.
Co-produced with staff and patients, the campaign recognises that services are extremely busy, and it can be frustrating for people accessing care.
The campaign reminds people we're all here to help each other and the importance of all round understanding and kindness.
A series of striking images created as part of the campaign aim to make people think about the gap that will be left if staff leave their role due to abuse.
This comes following an unprecedented level of need for advice and appointments in primary care. There has been a 15% increase in demand since the same time two years ago with community pharmacies managing increasing numbers of people, many GP practices receiving more than 1000 telephone calls every day, alongside delivering lifesaving flu and COVID-19 vaccines.
Abuse directed at GP practices and community pharmacy teams means receptionist and counter staff deal with the most insults and threats. As a vital part of the health care team, they are skilled in helping care for people and treating all information confidentially. They ask questions to direct people to the best support and are trying to help.
Teams have been spat and sworn at, their cars damaged, received death threats and been in tears, regularly.
Dr Richard Vautrey, Leeds GP said "Services remain exceptionally busy, and whilst GP teams are working as hard as they can we know it can be very frustrating for patients. This campaign is all about asking people to take a moment to think before speaking with our staff. Abuse is significantly impacting staff morale at a time when the workforce has never been so stretched. It is in danger of driving away staff from a profession under pressure – staff leaving their jobs won't help anyone and will only make the situation worse".
Dr James Thomas, Chair of WY HCP Clinical Forum said "GPs are working differently, whilst helping more people than ever before. One conversation can be enough to hurt. It's important that we all take time to consider our behaviours and how it can impact on others. Being kind can make a huge difference to someone's day".
Ruth Buchan Chief Executive Officer at Community Pharmacy West Yorkshire said "While most people treat our staff with the respect they deserve in the workplace, sadly, community pharmacy teams are facing increased abuse. We are here to help you with advice and medicines.  Please don't take your frustration out on our teams. I know things can be frustrating but let's be kind to each other, it can make a huge difference to someone's day and work life".
You can find out more at: www.wypartnership.co.uk/leaving-a-gap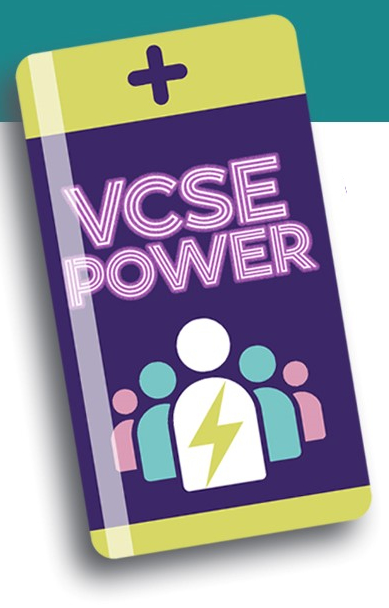 West Yorkshire Health and Care Partnership (WY HCP) have launched an online event to celebrate the work of their partners in the voluntary community social enterprise sector (VCSE) from Monday 28 March to the 1 April.
There are an estimated 12,000 registered and unregistered VCSE organisations across West Yorkshire employing around 29,700 full time equalivant staff who work 49 million hours every year. Add to this the 8.7 million hours that the 121,000 residents who volunteer regularly contribute and you get a sense of the scale.
Throughout the VCSE Power week, a wide range of resources from videos, podcasts, blogs, case studies and infographics will be freely available to share and celebrate the diverse and often life changing work of our voluntary and community organisations in West Yorkshire.
Hilary Thompson, WY HCP Harnessing the Power of Communities Lead said: 'We want to recognise the amazing work of our VCSE partners and the contribution they make day in day out to the lives of so many. Please browse, get in touch with the organisations directly and use these free resources to learn new ideas and share widely'.
With a focus on a specific theme with one from each of the five local places which make up West Yorkshire (Bradford District and Craven, Calderdale, Kirklees, Leeds, and Wakefield) the week-long event will cover:
Engaging with marginalised communities in Bradford District and Craven
Co-designing work with Calderdale communities around social prescribing and personalised care
Early help and what is happening in Kirklees, including community anchor network and community champions
The  win – win of volunteering in Leeds
The VCSE as specialist provider hosted by Wakefield.
Jane Colthup, Chief Executive of Community First Yorkshire, a charity that supports other voluntary sector organisations, said: 'This is a huge acknowledgement and thank you to the many community groups, charities and volunteers across Craven District and West Yorkshire communities who quietly go about their business of strengthening the health and wellbeing of local people. From the community transport driver to the telephone befriender, they all play a vital role in tackling loneliness and isolation, improving people's access to local services and opportunities and enabling our communities to be better connected and healthier'.
Andy Petrie, Chair of TSL Kirkees and Chief Executive, Local Services 2 You said:  'Over the last 2 years, during COVID, we've really seen the VCSE come to the fore in Kirklees and prove its value in partnering with health and local authority colleagues to support local people and keeping them well.  We're now working on strengthening and developing what started as an emergency COVID response so that communities in Kirklees have the ability and resources to respond to the needs of those communities in their own way, via new initiatives like our community anchor network and community champions'.
You can access the free online VCSE Power event at https://www.wypartnership.co.uk/vcse-power-showcase Twitter #VCSEpower
Click here to view this week's Friday Flyer
This week:
200 hours of construction work for Third Sector Organisations
Staying Well Community Get Together March 30th
Upcoming Lower Valley Ward Forums March 2022
Tree Planting at St Stephens in Copley April 2nd
Have a great weekend!
If you're on our mailing list the Friday Flyer will arrive direct to your inbox every Friday. Join the mailing list by emailing team@calderdalelowervalley.com
You can also contact us on 01422 252 209