The Piece Hall
To celebrate International Women's Day, Verd De Gris invites you for a day where women from diverse backgrounds from across West Yorkshire become One Voice for Social Change.
Further information including agenda for the day and highlights
Join us at The Gaygill Rooms at The Piece Hall
Friday 3rd March 2023
9.30 am  – 14.30 pm
Drawing on the life experiences of women from communities across Calderdale, special guests include Holly Lynch MP & Alison Lowe OBE West Yorkshire Deputy Mayor.
Crucially, we want to look at what we can do together to address some of the key factors that impact on health, opportunity, aspiration and social justice. The event will draw on the life experiences of women from diverse communities across Calderdale, using their voices to raise awareness of keys issues, and importantly, discuss ways in which lived experience can be used to inform and help shape policy and decision making at a local regional and national level.
We want to make sure that the voices of women and girls are included in regional and national discussions around health, poverty and social cohesion. We want to make our communities stronger. ​And by creating this safe space for visitors to learn and connect around tough local issues, we aim to provide a unique opportunities for people to get involved in helping to shape and influence change.
This event has been made possible thanks to support from West Yorkshire Mayor's Safer Communities Fund, The National Lottery Community Fund and the Community Foundation for Calderdale.
If you would like more information please contact Sharon:
tel: 07907 822323
web: www.verddegris.org
Places are limited. Booking via www.eventbrite.co.uk/e/516816390737
Keep up to date with other events as they happen by following our Facebook page Verd de gris arts and on Twitter and Instagram
Twitter @verddegris
Instagram @verddegris
We're thrilled to announced that Calderdale Pride will take place at The Piece Hall on Saturday 3 September 2022, from 12pm until 8pm.
We can't wait to welcome you all and turn our iconic venue rainbow, with 8 hours of amazing entertainment.
This is a free event and inclusive for all of our community.
Click for further information and other events at the Piece Hall
List of Events:
12pm – Mr. Rainbow
12.10pm – Dame Shirley Bazzey (Host)
12.15pm – Rachel Fuller as Shania Twain
12.50pm – Davina Regina
1.30pm – Nathan Anthony
2pm – Callum Butterworth
2.30pm – Rachel Fuller as Dua Lipa
3.15pm – Bex Wysling
3.45pm – Ellie Etoile's Burlesque
4pm – Jess Gardham
4.45pm – Dame Shirley Bazzey
5pm – Marigold Addams as Cher
5.30pm – Ellie Etoile's Burlesque
6pm – Liberty X
6.45pm – Divina De Campo
7.45pm – Pride Team Finale
Calderdale's South Asian Heritage Festival begins with a Weekend of Celebration at Square Chapel Arts Centre and The Piece Hall.
The festival, commissioned by Calderdale Council, promises a month of events and activities to celebrate the long and rich history of British Asians and the positive impact they have within the borough. It will bring together leading British Pakistani and Indian writers and performers plus local businesses and community groups at venues across Calderdale.
The Piece Hall
The Piece Hall event begins at midday and will feature Indian drumming, henna painting, calligraphy arts, face painting, antique Pakistani jewellery, handmade bags and free, fun, family activities in the main courtyard. There will also be music and writing workshops and performance events at Square Chapel Arts Centre over that weekend. All activities are FREE! And there will be a real community market feel in the courtyard … a chance to celebrate the friendship and generosity of South Asian culture …
Square Chapel Arts Centre

Brilliant FREE workshops for women and girls, not just of South Asian heritage. This is an invitation to all women interested in culture, identity, sense of place and empowerment.
Booking is essential. You can book workshops and events at Square Chapel Arts Centre here: squarechapel.co.uk/whats-on/
Saturday 16th July @ 1.30 pm
" I Belong Here " – Talk & Writing Workshop with Award Winning author Anita Sethi
A two-hour session with Anita Sethi. Short talk after which Anita will explore themes of place, nature, journeying – both geographical and emotional journeys – and how nature and writing can bring a sense of belonging.
Saturday 16th July @ 4 pm
Into the Wilds – New South Asian Writing
Fox & Windmill is the UK's first independent book publishing company for British South Asian writers. They are dedicated to bridging the gap in the industry for writers from underrepresented backgrounds and sharing their unique stories and perspectives.
Sunday 17th July @ 2pm
Suhaiymah Manzoor-Khan Free Workshop & Performance Event
Suhaiymah Manzoor-Khan is a writer, poet and educator disrupting understandings of history, race, knowledge and violence. In 2019 she published Postcolonial Banter, an anthology of poetry critiquing racism, Islamophobia and notions of national identity. The collection includes poems which have had millions of online views and been featured across TV and radio.
Saturday July 23rd
Square Chapel will host a screening of acclaimed film 'Lakeer' followed by a Q&A with the film's producer
Victoria Theatre
Saturday July 23rd – South Asian Comedy Club
Comedy club with some of the best South Asian comedians on the comedy circuit.all communities to come together and share the best South Asian culture has to offer – please let your friends and colleagues know and help make this a regular feature of Calderdale's Cultural Calendar!The full programme of events and activities can be found at:
Calderdale's museums and libraries will feature a number of displays and events to complement the celebrations. This is an opportunity for 
issuu.com/verddegris/docs/programme
Calderdale is teeming with events to commemorate the Queen's Platinum Jubilee. From days of music at the Piece Hall, Flower exhibitions at Halifax Minster and local street parties at the Space at Fieldlane, there are many ways to celebrate this unique event!
Look out for the Calderdale Adult Learning Art competition and the Queen's Jubilee beacon trail to name but a few.
It is 520 miles to Aachen, Halifax's twin town and we think that together we are up for the challenge!  In addition to the walks below, team Full Circle will add up our additional miles walked but we really need your help to get there!
The proceedings of this fundraiser are for the homeless charity Happy Days.
The walks will be at a gentle pace and  about 5 km long. Please wear suitable clothing and sturdy footwear. Everyone is welcome to join.
This is a great opportunity to meet with friends, connect with new people, learn about Happy Days and spend some time appreciating the beautiful Calderdale countryside.
For more information on the project and for the individual walks, please visit FCF Virtual walk to Aachen – supporting Happy Days | Localgiving
"What a dynamo of a character! A Nineteenth Century land-owning, business-operating, mountain- and social-climbing genius who didn't take any guff from any man. A woman who wanted a wife! A woman who recorded every bit of her interior and exterior world, leaving us a written record of her life and times, unmatched by anyone, ever." — https://www.annelisterbirthdayweek.com/ Why, What Who
Very little daunted the indomitable Anne Lister of Halifax, a little Covid pandemic wouldn't stump her! Two years later than initially planned, 2022 will see Halifax celebrating Anne Lister's 231st birthday in style!
Brought to global attention due to Sally Wainwright's BBC/HBO series, Gentleman Jack, Anne Lister will be celebrated during her birthday week by a festival all over Halifax.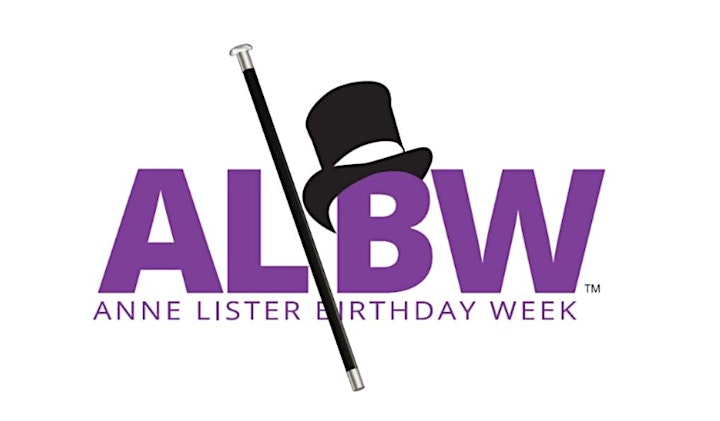 The festival will bring Anne Lister's story to life through tours, talks, gatherings and the distinctiveness of Halifax's stunning heritage sites, including Anne's historic home, Shibden Hall, plus Halifax Minster, The Piece Hall, Dean Clough, The Victoria Theatre, Bankfield museum and many more.
Libraries across Calderdale will mark Anne's birthday with displays, writing workshops, drawing corners, themed kids' activity sheets and more.
More information and visiting / booking details for events can be found at the Visit Calderdale website:
www.visitcalderdale.com/anne-lister-birthday-festival-2022
Further read
Visit Calderdale: Events information and things Anne Lister related
Anne Lister Birthday Week festival
Anne Lister's birthday celebration goes global
Inaugural meeting of the Anne Lister Society 8-9 April
There is a unique opportunity to receive your Covid-19 jab and the NHS flu jab this weekend at the Piece Hall. No appointment needed and all three doses (1st, 2nd and booster) will be available!
Saturday 20th November, 10am-2pm
Sunday 21st November, 10am-4pm
Vaccinations will be offered on a first come, first served basis.
Covid first and second doses available for anyone 16+.
Please note, you need to wait at least 8 weeks from your first dose to receive the second dose.
Booster jabs available for those who had their second dose on or before the 22nd May 2021.
Please note that people who are severely immunosuppressed should bring a letter from their specialist or GP confirming the need for a third primary dose to receive this additional vaccination.
Starting on Friday the 19th of November until the 31st of December there is a Christmas Events Galore at the Piece Hall.
The festive events open with the Christmas Makers Market from Friday the 19th  of November until the 28th of November.
And on December the 4th, Father Christmas will make a special appearance, until December the 24th, so be good girls and boys!
Workshops for Christmas arts, Family events and (hopefully!) a Christmas funfair are lined up.
For a current, updated and detailed list of events including prices, visit Christmas at the Piece Hall
The Piece Hall is helping communities across Calderdale celebrate Diwali with a daylong festival of music, food, dance and of course light.
The Festival of Lights is observed by millions of Hindus, Sikhs and Jains across the world.
It also coincides with harvest and new year celebrations, and marks new beginnings, the triumph of good over evil, and light over darkness.
The Courtyard will be alive with traditional Indian music and dance, alongside vegetarian food stalls, family crafts and even a meditation session.
And embracing the spirit of the festival, lantern making workshops will be held suitable for the whole family.
The event is free to enter and takes place on Saturday 6 November 2021 between 11am – 5pm
For more information and more events at the Piece Hall, follow this link