University of Bradford
An event to learn about moral economy and its relevance to policy and practice for policy, businesses and citizens.
Tuesday October 25th from 9am to 15.30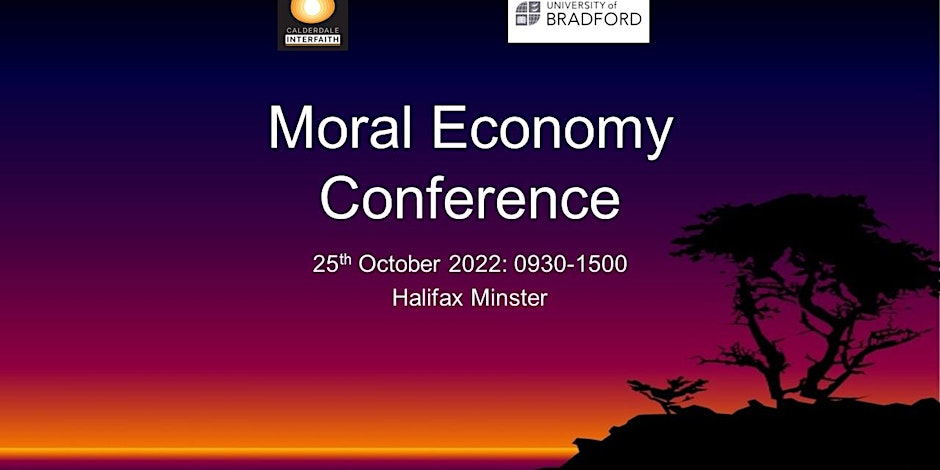 The idea of a moral economy is not new. However, as we learn more about the climate crisis, plastic pollution, and our unprecedented scale of impact on the natural world, we become ever more concerned that something needs to be done.
Gone are the days when we paid attention only to the price of the things we buy. Today we want to know whether there was any child labour involved, whether human rights were violated, whether our consumption is causing irreparable damage to the communities producing the things we are consuming.
Many people are arguing that moral values such as equality, empathy, solidarity and co-operation should determine the behaviours of individuals and institutions rather than material interests. These issues are of immense interest to faith communities and to people of no faith as well.
This conference aims to give us an opportunity to reflect on these profound issues and to identify practical ways to apply these in our contexts.
Children and young people will take part in two fun workshops to discover what crime and punishment was like in Victorian times, and what it is like today at Bankfield Museum on Saturday 14 April, 12:30pm-3:30pm. They will also design a themed T- shirt during an art and textiles workshop.
The fun day is designed for children and young people who are currently in care, aged 5-16 from across West Yorkshire, to attend with foster carers / residential staff.
The aim is to offer looked after young people opportunities to explore what their future could hold in a fun, interactive and age appropriate way, while gaining exposure to higher education professionals.
The session is FREE but places are limited so please book at Eventbrite.