Winter Wise
Residents of Calderdale you should have received a Winter Wise booklet through the post, packed with useful advice on how to stay well, travel safely, protect your home and find out about the support available to help with the cost of living increases.
You can find a digital version of this booklet here.
We hope that you have found this useful and we would love to hear your feedback on what you found most useful and what we can do to improve it next year. Please take five minutes to complete our online survey here and tell us what you think.
Thank you
If you live in Calderdale, look out for your Winter Wise booklet coming through your door, jam packed with useful advice and contact details that will support you through the colder months.
Our guide covers how to stay well, travel safely, protect your home and prepare for flooding. We've also included the support available to help with the cost of living increases.
A digital version of the booklet can be found here.
The leader of the West Yorkshire Vaccination Programme has rolled up his sleeves to encourage people to get their autumn booster as soon as possible.
Dr James Thomas, Medical Director for the West Yorkshire Integrated Care Board and practising GP, celebrated the rollout passing the half million milestone this week by getting his own top-up dose.
Just over a million people in West Yorkshire are eligible for the vital top-up jab, and over half of these have now been vaccinated. With COVID, flu and other respiratory illnesses in circulation and infection rates on the rise, Dr Thomas is urging everyone who is eligible to get their booster now to ensure maximum protection throughout the winter and festive period.
Dr Thomas said: "I am so grateful to our vaccination teams in West Yorkshire for all they are doing to get people protected ahead of what we know will be a hugely challenging winter. NHS staff and GP and pharmacy colleagues have been working flat out to protect those most susceptible to serious illness from both COVID and flu and delivered over 120,000 boosters a week during October, which is a fantastic achievement
.
"As we head into the winter months and busy festive season, the booster offers important protection and peace of mind for those at greatest risk and their loved ones, so if you are eligible for the booster and yet to come forward, I strongly urge you to roll up your sleeves and get the jab done!"
Everyone aged 50 and over, or who has a condition that puts them at greater risk from COVID-19 is eligible for the vital top-up jab to keep their immunity as high as possible this winter. This includes people with weakened immune systems, learning disabilities and pregnant women. Frontline health and care workers and unpaid carers are also eligible and being urged to protect themselves and those they care for by getting their booster and flu jabs.
Anyone eligible can book an appointment on the National Booking Service at www.nhs.uk/covidvaccine or by calling 119 free of charge. The West Yorkshire programme is also running a large number of walk-in and pop up clinics in local communities to make it as easy as possible for people to get their booster. People can search for clinics near them at www.nhs.uk/grab-a-jab
Rachel Spencer-Henshall, Public Health Lead for the West Yorkshire Integrated Care Board, said: "It is great that so many people have already made the smart choice to get their booster. We know that with winter comes both increased infection levels and also increased socialising indoors where viruses spread more easily. The increase in COVID infections is very concerning and latest data the UK Health Security Agency shows that flu infection rates are also on the rise so I would urge everyone who is eligible to get both their booster and their flu jab to keep them safe this winter.
Save money on your energy bills now!
If you live in Calderdale, you could be eligible for FREE* home improvements to increase the efficiency of your property.
The Housing & Green Economy team of Calderdale Council are at hand to help you keep warm and find affordable solutions to reduce your energy bills and live cost effectively.
They have information on available schemes and grants to improve your home, including boiler grants and cavity or loft insulation.
For more information, please contact the Housing and Green Economy team on 01422 392199
[ Message from Debs Harkins, Director of Public Health and Jackie Addison, Head of HR&OD – abbreviated ]
COVID-19 Autumn 2022 Boosters overviewWith flu season nearly upon us and COVID-19 continuing to circulate, we are encouraging you to protect yourself and others from serious illness at this critical time. As well as the infection prevention measures we have been using during the pandemic, you can boost your immunity by:
having a flu jab – Check your eligibility for a free jab
having the COVID-19 booster vaccine, if you are eligible
The COVID-19 booster and the flu vaccine can be given on the same day.  We advise that you get each vaccine as soon as you can, rather than wait to get both.
Additionally, those working in care homes could be offered the opportunity to receive a COVID-19 or flu vaccine when roving teams visit care homes, however this may not always be possible.
Free flu vaccinationWhile it's important to get the flu jab every year, it's particularly important this year. There has been more flu circulating this year in the Southern Hemisphere than in recent years and the flu season started earlier than usual, so we can anticipate a similar situation in the UK. As well as this, the measures we have taken to avoid catching COVID-19 have meant that for the last couple of years we were also less likely to catch flu, so there may be less natural immunity in the community this year. You are more likely to get seriously ill and end up needing hospital care if you have COVID-19 and flu at the same time. The UK Health Security Agency (UKHSA) found that people who have COVID-19 and flu at the same time were almost six times more likely to die compared to people with neither.  So please keep doing everything you can to avoid infection. If you are already eligible for a free flu jab on the NHS you should get it through that route. You will have probably already received an invite.  If you're not sure, one of the participating pharmacies can check when you go along and can still give you a jab even if you're eligible for a free one on the NHS.   If you have any questions about the scheme, or are not sure if you are eligible or not, please email joanne.ngan@calderdale.gov.uk.
As well as all Calderdale Council staff, the free flu vaccine is available through this scheme for employees of some of our partner organisations, where they are not eligible to get it on the NHS.  Specifically employees who work in:
Calderdale care settings, including domiciliary care
Early years settings and early years providers
Primary, secondary, specialist and post-16 education providers
Get your COVID-19 booster vaccination
The NHS is offering Autumn boosters to people at greatest risk from COVID-19 to help increase their immunity from the virus during the winter months. COVID-19 is still with us and people can still become very ill or die from the virus. Having your booster will ensure you continue to have the best protection against the virus through the winter months.here or ring 119.   You can have your seasonal booster (Autumn booster) if it's been at least 3 months since you had your previous dose.  If you have not had a 1st or 2nd dose of the COVID-19 vaccine yet, you should have them as soon as possible. For more information on eligibility and to book your Covid booster vaccine, visit the NHS website.
  The NHS will invite eligible people to make an appointment when it is their turn so please wait to be contacted.  This invite will provide all the information on how to book an appointment.  Frontline Health and Social Care Workers do not need to wait to be invited and can self-declare their status and book an appointment 
More information about the Flu Vaccine and Covid Autumn Booster on Gov.uk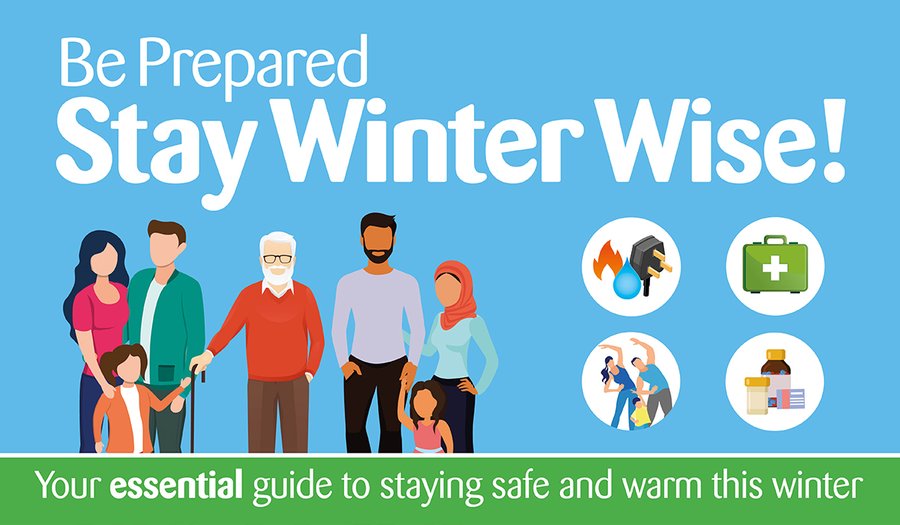 Residents in Calderdale will soon receive important advice to support them to stay warm, safe and well throughout this winter.
The latest version of the Winter Wise guide is being sent to all households in Calderdale, with updated advice on a range of topics to help support residents through the winter period.
The guide has been created by Calderdale Council in partnership with the Calderdale Clinical Commissioning Group (CCG) and is also available to view at www.calderdale.gov.uk/winter. It contains important advice to help with issues that we may have during winter months, such as preparing for extreme weather events, energy saving tips and how to boost mental wellbeing.
This year's guide also includes extra information about how we can boost our immunity this winter, with specific guidance on the COVID-19 booster campaign and flu jabs and the importance of getting these vaccines. There's also a section providing further advice for those with health conditions such as diabetes and those who are clinically extremely vulnerable.
To support local health and care services and reduce pressures on these services, the guide also signposts people to the right care, in the right place, at the right time. This includes support on self-care and the use of local pharmacies, as well as advice about contacting GP surgeries or seeking urgent emergency care. More information is also available at https://togetherwe-can.com/
Find full story at the WYPartnership website
West Yorkshire Health and Care Partnership (WY HCP) is all set to run an area wide 'Together We Can' campaign this winter. The campaign started in Calderdale and Kirklees is being rolled out across West Yorkshire to help people access health and care services at the right time and place.
The campaign encourages people to choose well and to opt for convenient self-care, where safe to do so during the winter months.
If everyone 'chooses well' it could really make a difference to already stretched services. Together we can make a real difference.
The campaign has an easy to navigate website [togetherwe-can.com]. Here you will find help and advice and tips for keeping well this winter, as well as other useful information on how to stay healthy.
Together we can protect each other this winter.  Together we can make a real difference so please:
Access online services. You can book appointments or order repeat prescriptions through the NHS App. Visit 111.nhs.uk or call 111 if you need urgent medical help 24/7.
Remember GP practices are here to help and will ensure you get the right care appropriate for your needs.
Be COVID-19 aware. Take up vaccines and boosters and get a test if you have COVID-19 symptoms. Stay safe by following the latest COVID-19 restrictions.
Get the Flu vaccine. If you're over 50, pregnant or have a long-term medical condition, get your free flu jab today.
Take good care this winter there's lots you can do to stay well and protect yourselves and others around you this winter.
Visit your local community pharmacy for medical advice and treatments for things like colds, tummy troubles, rashes, and pains.
We can all spread the kindness this winter by looking out for each other and our neighbours. Visit: ourneighbours.org.uk